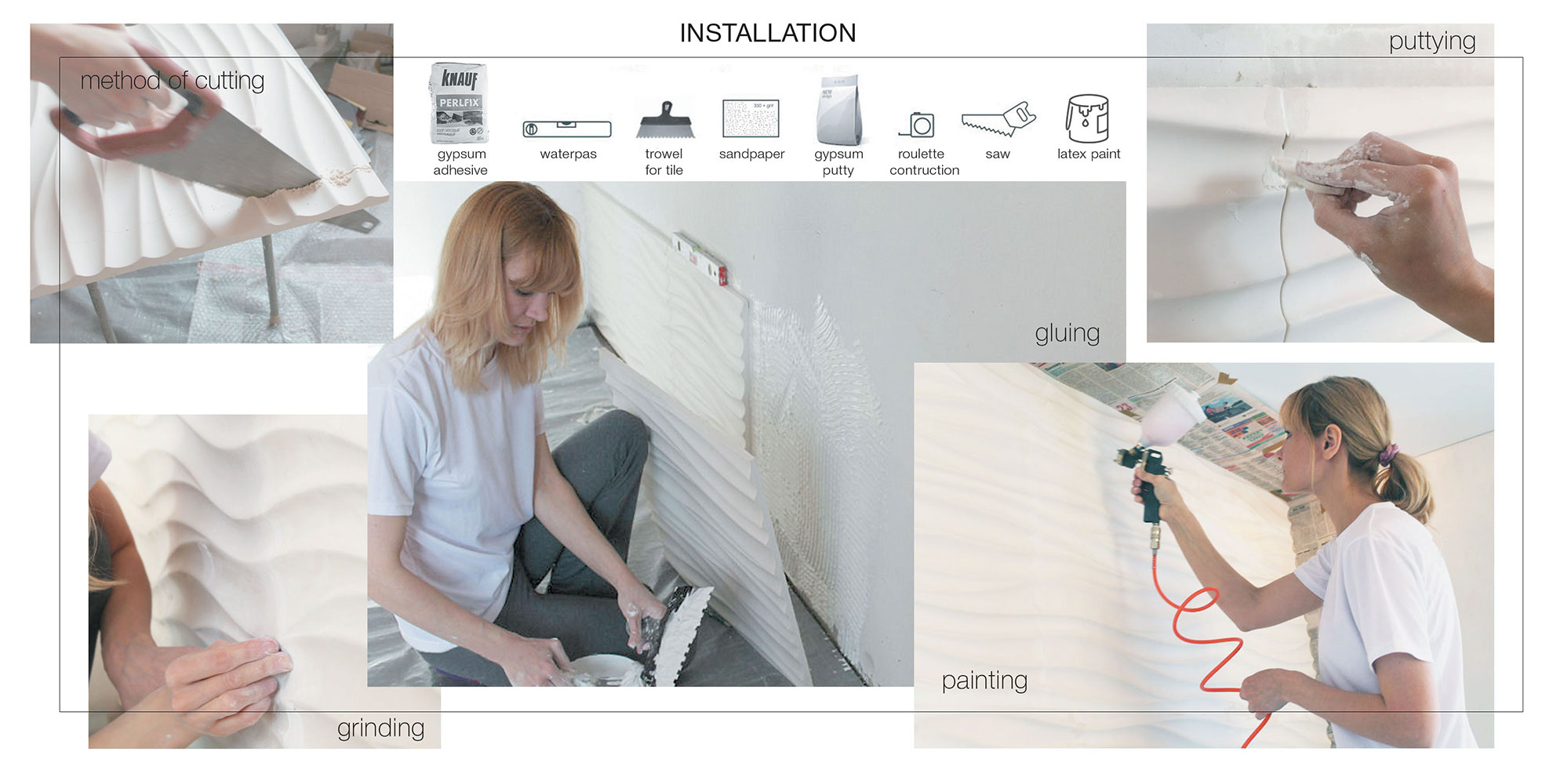 Installation of 3D plaster panels
Step 1: Measure the walls to determine the required number of panels horizontally and vertically.
Step 2: Using the laser or ordinary building level, determine the perfect horizontal and vertical lines, mark them with a pencil.
Step 3: The surface of the wall and the back side of the panels treat with a deep penetration primer. If the wall is of wood, MDF or of plywood, then the best option of the first coating will be quartz primer paint.
Step 4: Apply on the surface of flat wall, where installation of the panels is foreseen, with a notched trowel the mounting gypsum adhesive and press the panel against the wall, aligning per the marked lines. If the wall is of wood chipboards, plywood or similar materials it is recommended to use mounting acrylic adhesive. Installation starts from the bottom of the wall.
Step 5: Similarly continue the panels installation horizontally combining the image. To get the effect of a solid wall, the plaster 3d panels should be mounted as close as possible to each other, with minimal joints. Fill the seams with initial putty; remove the excess with a damp sponge. To get the finishing status, apply finishing gypsum putty, which during grinding is softer than the gypsum one. After putty drying process the irregularities with fine-grained sandpaper.
Step 6: If the last section of the wall does not coincide with the size of the panel, cut the desired size of the panel with a saw with a fine tooth. If necessary, flatten the edge with sandpaper. The tile is easy to handle. If necessary, the edge of the panel can be brought to the desired size with the help of a stationery knife.
Step 7: Before painting, treat the gypsum panels with a deep penetration primer.
Step 8: The panels can be painted with spray guns, paint roller or brush in any color with acrylic, latex, water-emulsion or textural paint in 2-3 layers, depending on the paint coating quality.